Solutions At Work
Farmers, conservation experts and scientists are working together to improve and scale up practices known to reduce nutrients in water. Currently, Iowa is in the early years of implementing the Iowa Nutrient Reduction Strategy, a science-based plan that will take decades to accomplish. Experience and research has shown that it can take more than one in-field or edge-of-field practice to reach nutrient reduction goals. In tile drained landscapes, nitrate is a key focus. The combination of practices needed to reduce nitrate loss may include cover crops, adaptive management of nutrient application rates and timing, along with a practices like bioreactors or saturated buffers. Local watershed planning is essential to determine the right combination of practices for each field and each farm as an integrated system that best meets local watershed and priority resource needs. Farmers, conservation experts and scientists are working together to perfect and scale up practices known to reduce nutrients in water. Depending on conditions on a particular farm, it's possible for farmers to be using more than one practice.
Annual Practices
These are practices that producers must consider every year. These practices also take place 'in the field' rather than at the 'edge-of-field' and include cover crops, no-till/strip-till, extended crop rotations, nutrient management and drainage water management.
In general, producers make these decisions within the context of their total operations' profitability.
For example,
Is new equipment needed?
Did yield increase or decrease last year with this practice? What were the factors that contributed to the yield change?
What was the insect and/or disease pressure? How does pest management need to change?
Economic risk vs. benefit?
Does the operator own the land? How long is the contract?
Longer-Term Practices
Once implemented, some practices keep providing water quality benefits year after year, and only require occasional maintenance to keep working. Some of these practices are installed within the cropped area of the field and some are placed at the edge of the field. Practices in this category include grassed waterways, terraces, bioreactors, saturated buffers, Prairie STRIPS, stream buffers and constructed wetlands.
Annual Practices: Cover Crops

Cover Crops: Various crops grown between the harvest of row crops, like corn or soybeans and planting of the following year's row crop to cover the soil, reduce nitrogen loss through plant uptake and phosphorus loss through reduced erosion.
Cover crops such as winter rye are planted in the fall before harvest or after row crops are harvested to help reduce the loss of nitrogen and phosphorus from the soil and capture nutrients for next year's crop.. Cover crops are a very important component of the Iowa Nutrient Reduction Strategy because of significant and immediate benefits for water quality across all landscapes. Cover crops are flexible, improve our soil resource over time and require a relatively low capital investment by farmers and prevent erosion. Though Iowa farmers planted about 400,000 acres of cover crops in 2015, Iowa stakeholders look to build this to the millions of acres needed to have a significant positive impact on water quality statewide.
On average, the use of cover crops such as winter rye can reduce nitrogen loss by 31 percent and phosphorus loss by 29 percent. Other important benefits for farmers include improved weed control, a source of forage for cattle producers and improved soil health. With long-term use, most farmers observe soil health changes such as improved water infiltration, increased soil organic matter, increased water retention capacity and improved resilience to more dramatic seasonal climate events.
Planting cover crops is not business as usual. Intentional management is necessary for success. Challenges that farmers must overcome to get the full benefits of cover crops could include the short growing season between crop harvest and cold winter weather, inconsistent rainfall and the potential for decreased seed-to-soil contact. All of these factors determine how effective cover crops will be at reducing nutrient loss. Cost also is a consideration since the expense is offset by items that are not easily monetized by row crop producers such as reduced soil erosion and nutrient loss. Livestock producers however, may see an immediate return through reduced feed costs when cover crops are used as forage. In years of low commodity prices when farm margins can be thin, the $25 to $50 per acre cost for cover crop seed, seeding and crop termination can be a questionable short-term investment. Uncertain land tenure also reduces incentive to use cover crops because the major benefits tend to build up over multiple years of continuous use. Depending on the crop planned for the following spring, increased scouting for pests such as armyworms, wireworms and cutworms also may be required.
Another key factor is planning. Those who plan their cover crop program up to a year in advance of seeding are more likely to be successful. This planning includes identification of goals for the cover, such as reducing soil erosion, scavenging nutrients, providing livestock forage or reducing compaction. The goal will impact cover crop species seed selection, seeding methods and many other management aspects. It is helpful during the planning phase to consult with farmers, agronomists and others with cover cropping experience. The plan should also consider priority fields, cover crop species and variety, seeding method and timing, herbicide program, crop rotation, termination approach and integration with manure application. Although having a good plan is essential, flexibility in adapting the plan to current conditions also is important.
Additional Resources:
For a wealth of information on cover crop selection based on your county and specific goals, consider using the on-line cover crop selection tool developed by the Midwest Cover Crops Council on your own, or work with your Certified Crop Adviser:
For guidance on integrating cover crops into a corn-soybean rotation, details on seeding methods and termination as well as addressing other key challenges visit:
To learn even more about cover crops, check out these resources:
For farmers' perspectives:
Annual Practices: No-Till

No-Till: No-till farming greatly reduces soil disturbance, which in turn reduces soil erosion, builds soil organic matter and helps reduce phosphorus entering waterways.
Soil and crop residue are left undisturbed between harvest and planting, other than nutrient injection. There are no tillage operations with no-till, no matter how much residue is left by the operation.
The advantages of the no-till system include significant improvements in soil health (reduced soil erosion, improved infiltration, etc.) and reduced fuel, reduced equipment requirements and potential increased profitability. The disadvantages of this system include the learning curve associated with the transition to no-till, the length of time (several years) required to observe soil health changes, potentially slower early plant growth and increased seedling diseases in colder and wetter soils.
Strip-Till: Strip-till farming is a modified form of no-till, where tillage is limited to a narrow zone in which next year's crop will be planted. Soil disturbance is greatly reduced compared to conventional tillage. Strip-till reduces soil erosion, builds soil organic matter and helps reduce phosphorus entering waterways.
Residue-free strips approximately six inches wide are tilled ahead of planting in order to have a warmer and drier zone when row crops are planted. Crop residue is lightly moved to the row middles. Generally, global positioning guidance systems with accuracy to within one inch are used to prepare the strips and later plant in the same zone. A slight mound of soil is typically left after strip tillage in the fall, which can help limit soil erosion. Strips can be prepared in the spring, but producers generally prefer to do so in the fall to reduce spring time constraints and improve seedbed conditions. The practice is well adapted to the colder and wetter soils of north-central Iowa, but also is used throughout the state.
The advantages of strip-till include optimum placement of fertilizers for plant uptake, improved conditions for seed-to-soil contact at planting, reduced seedling disease problems and more rapid early season growth as compared to no-till. Strip-till advantages over conventional tillage include reduced expenses and time requirements, increased soil organic matter and improved soil physical conditions that can improve timeliness of spring field operations. Disadvantages include cost of special equipment, cost of the strip tillage pass, potential for excessive crusting and drying, potential for nitrogen losses and potential soil erosion of the tilled strip.
Additional resources for no-till and strip-till:
Annual Practices: Exended Crop Rotation

Extended Crop Rotation: A planting cycle of different crops such as grasses, legumes or small grains along with corn and soybeans to help improve soil health and decrease insect and disease pressure. The practice can help improve water quality by extending the number of months the soil is covered with actively growing plants.
Economics have driven most producers toward row crop agriculture (corn-soybean rotations or continuous corn). An extended crop rotation that includes small grains and forages can help improve water quality and can be economically as competitive for producers. The Iowa Nutrient Reduction Strategy science assessment shows that a 5-year crop rotation including at least two years of alfalfa will reduce nitrate losses to surface water by an average of 42 percent. Long term studies at Iowa State University have suggested a possible role for extended rotations of three years – involving oats and red clover – while maintaining profitability.
The advantages of more diversified crop rotations include dispersed workload, improved weed control, increased crop yields, potential for improved profitability, which in turn can reduce profit variability, and reduced fertilizer and herbicide requirements. The disadvantages include additional labor and equipment requirements, lack of experience and the lack of a market in many areas for small grains and forages.
Additional resources:
Nutrient Management Practices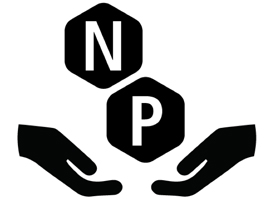 Nutrient Management Practices: The fertilizer rate, timing, placement and the form of nutrients applied are managed to maximize the nutrients that are taken up by the crop while minimizing the loss of nutrients to surface water, groundwater or to the atmosphere. The nutrients of greatest interest in Iowa are nitrogen and phosphorus.
While there are many different approaches to nutrient management, a high level overview is presented here. Keys to nutrient management include good planning, good data and a mindset of continuous improvement towards maximizing crop uptake while minimizing losses.
Nitrogen (N) management practices highlighted in the Iowa Nutrient Reduction Strategy (INRS) include:
Adjustments in timing of N applications (fall vs. spring; spring preplant vs. sidedress)
Reducing the total N rate applied to the Iowa State University's Maximum Return To Nitrogen (MRTN) rate
Use of the nitrification inhibitor nitrapyrin for fall anhydrous ammonia
Use of swine manure as a source of N in place of spring applied fertilizer N
Other types of enhanced efficiency fertilizers, such as urease inhibitors, other nitrification inhibitors and slow release (coated) fertilizers, may reduce losses of applied N, but specific average values have not been incorporated into the science assessment of the INRS.
Phosphorus (P) management practices highlighted in the INRS include:
Applying a rate of P based on crop removal
Applying a rate of P based on soil test
Use of manure as source of P compared to commercial fertilizer
Placement of P to reduce the potential for loss through runoff (incorporation through tillage or knifed in)
Additional resources:
The Fertilizer Institute
Annual Practices:Drainage Water Mangement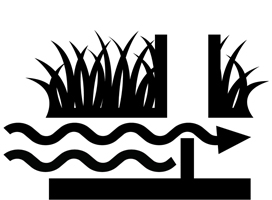 Drainage Water Management: Use of a control structure to manage drainage of water from fields throughout the year. The practice reduces the loss of nitrate and can increase crop yields in some years. Also called controlled drainage.
The Iowa Nutrient Reduction Strategy assigns an average 33 percent reduction in nitrate leaving the field for this practice. Drainage water management has little impact on the concentration of nitrate in the drainage water, but by reducing the volume of drainage water leaving the field, the overall load or amount of nitrate is reduced.
The water level is managed by installing control structures that allow for the outlet to be raised when drainage isn't critical – such as outside the growing season – and during summer for potential water storage in the field. At times when drainage is needed, the outlet can be lowered and the system operates as a conventional drainage system.
The practice is best adapted to flat fields (up to 1 percent slope) because steeper, more variable land requires more control structures to manage water levels within a desirable range. Existing tile drainage systems can be retrofitted for drainage water management, but the utility may be limited depending on how the system was designed. New systems designed with drainage water management in mind can optimize the effect. The practice is better adapted to pattern-tiled fields as compared to random layouts.
The advantages of drainage water management, include reductions in nitrate loading to surface water and the potential for increased crop yields in some years. Yield advantages tend to be modest (up to 5 percent) and do not occur every year. The disadvantages of the practice include the cost of the water control structures, increased management required to adjust outlet levels and increased potential for runoff and soil erosion when water levels are high.
The overall fate of the water and nitrate not lost through the drainage system is an open research question.
Longer-Term Practices: Bioreactor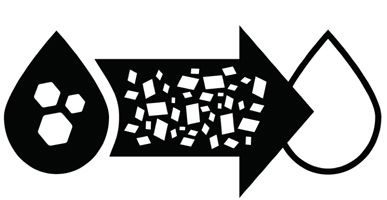 Bioreactor: Redirects tile water to an underground bed of wood chips where nitrate is removed naturally by microorganisms. Vegetation on top of the bioreactor can provide other benefits such as wildlife habitat.
A bioreactor is an edge-of-field treatment process that allows the producer to reduce the amount of nitrate leaving the field from a tile line and therefore improving water quality of the receiving stream. It consists of a buried pit filled with a carbon source such as wood chips, through which tile water is diverted. The carbon provides a food source for microorganisms that use the nitrate to metabolize the carbon, converting the nitrate to harmless atmospheric nitrogen (N2) gas. Bioreactors can reduce nitrate by an average of 43 percent.
Two control structures are used to divert tile water into the bioreactor, control the depth of water and to control how long each gallon of water stays in the bioreactor. The control structure at the upper end of the bioreactor determines the amount of water diverted. The structure intercepts or "T's" into the existing field tile. When tile flow exceeds the bioreactor's capacity, excess water bypasses the system and flows down the existing tile line, preventing backup into the field. The lower structure determines the depth of water within the bioreactor and the retention time.
Bioreactors are generally used where the drainage area is about 40 to 100 acres. The footprint is small, typically covering less than 0.05 acres. Most bioreactors installed in Iowa to date have been 100 to 120 feet long and 10 to 25 feet wide. They work well in existing filter strips. The wood chips may need to be replaced every 10 to 15 years to maintain high levels of nitrate removal. The Iowa Soybean Association Environmental Programs and Services team has installed about 40 bioreactors. It is estimated Iowa needs about 180,000 bioreactors to reach the goals set out in the Iowa Nutrient Reduction Strategy.
For more information on bioreactors:
Longer-Term Practices: Sturated Buffer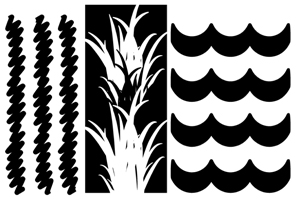 Saturated Buffer: A water level control structure is installed near the outlet of a tile line, but within or immediately adjacent to an existing stream buffer. A portion of the water is diverted into a tile line parallel to the stream and within the buffer. Excess nitrate in the tile flow is converted to harmless nitrogen gas in the soil of the stream buffer due to organic matter and low oxygen.
Saturated buffers are a relatively new practice for improving water quality. This practice has considerable potential due to its reliability, effectiveness and low cost. US Department of Agriculture Natural Resources Conservation Service has approved an interim practice standard.
The advantages of saturated buffers include: low maintenance, relatively simple to install and a reasonable cost. The challenges for this practice include: site specific soil investigations are required to determine if the practice can be applied; interim practice standard complicates using this practice within Conservation Reserve Program areas; very few people have experience with site assessment, design, and installation; and a buffer of perennial vegetation is needed. The site assessment and design must assure that impacts of impeded drainage on the cropland upstream are minimal and that streambank soils will remain stable with prolonged saturation.
Additional resources:
Programs Available:
Longer-Term Practices: Prairie STRIPS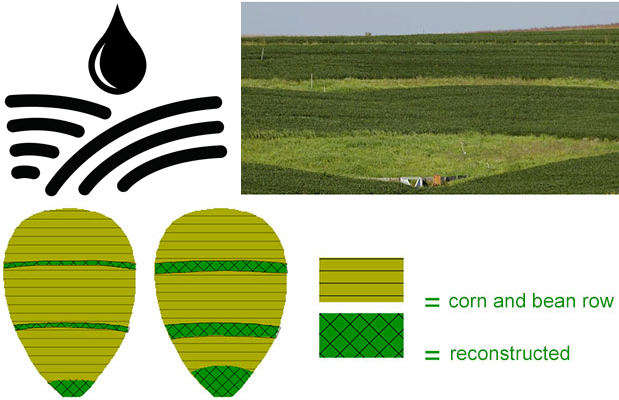 Prairie STRIPS: Buffer strips of native prairie grasses are placed on the contour in crop fields, combined with filter strips of prairie grass strategically placed where runoff leaves the field. This practice results in large improvements in runoff water quality with only a small (~10%) portion of the field taken out of row crop production.
Iowa State University data has shown that returning only a small fraction of cropland to deep rooted, native prairie plants with stiff, upright stems can dramatically reduce soil erosion by 95 percent, plus losses of nitrogen by 85 percent and phosphorus by 90 percent in surface runoff. The numbers are unclear in tile drained systems. The stiff-stemmed native grasses provide greater water quality benefits than non-native grasses like smooth bromegrass because the native grasses are much less likely to lay flat when there is runoff.
In addition, these small prairie areas can provide important habitat for pollinators and at-risk species. Other than the cropland taken out of production, there are generally no negative impacts on crop yield. Prairie STRIPS, planted with a diverse mixture of plants, provide habitat and food for beneficial insects, songbirds and wildlife. These areas can potentially be enrolled in programs such as CRP to receive rental payments and to help with the cost of the seed mixes.
Additional resources:
Programs Available:
Longer-Term Practices: Stream Buffers

Stream Buffers: Buffers are grassy or native vegetation adjacent to streams that trap sediment from surface runoff. This reduces phosphorus entering a waterway, filters nitrogen as it moves in groundwater through the soil, stabilizes stream banks and provides habitat for wildlife.
There are several different words used for the same practice: stream buffers, riparian buffer strips and filter strips. 'Stream buffers' are used here. Stream buffer strips are areas surrounding water sources that have been taken out of agricultural production. These areas are then planted with a variety of grasses, shrubs and/or trees that help improve water quality. The primary benefit of stream buffer strips is to trap soil and phosphorus in surface runoff before it reaches a stream or river.
For stream buffers to be effective without excessive maintenance, soil erosion must be well controlled on the land draining toward the stream buffer. A uniform buffer is preferred by many producers, but varying the width of the stream buffer based on the amount of runoff that enters each section is more effective.
Additional resource:
Longer-Term Practices: Constructed Wetland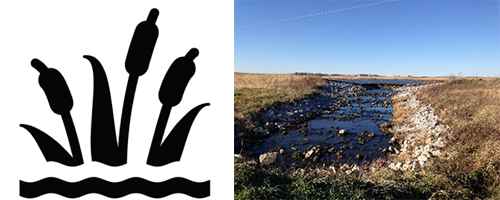 Constructed Wetland: A shallow vegetated pool that helps filter nutrients, especially nitrate, control flooding and provide wildlife habitat.
Nutrient treatment wetlands are an important edge-of-field practice. They have been shown to improve water quality by reducing nitrogen by 52 percent on average. Actual nitrate removal depends on rainfall, with greater removal in drier years and lesser removal in wetter years. In addition to removing nutrients, wetlands provide habitat, recharge groundwater, reduce flooding downstream by storing runoff and can provide recreational opportunities.
More than 70 constructed wetlands have been installed in Iowa for water quality improvement as part of the Conservation Reserve Enhancement Program (CREP). It is estimated that Iowa needs about 7,000 CREP wetlands to fully implement the Iowa Nutrient Reduction Strategy. CREP is a major state/federal initiative of strategically located wetlands using advanced computer technology and designed to remove nitrate from tile-drainage water from cropland areas. These systems typically include a 5 to 10 acre wetland, surrounded by a 30 to 40 acre grass buffer. The typical system handles water from roughly 1,000 acres. One CREP wetland provides roughly the same amount of nitrate removal from 1,000 acres as converting 500 acres to permanent grass. The demand for the program greatly exceeds available funding and the waiting list extends at least 5 years.
The program is implemented by the Iowa Department of Agriculture and Land Stewardship in cooperation with the U.S. Department of Agriculture Farm Services Agency and is available in 37 counties in the tile-drained region of north central Iowa. Financial incentives are provided to private landowners to develop and restore wetlands that intercept tile drainage from agricultural watersheds. Landowners receive annual land payments for up to 15 years and reimbursement for costs of wetland and buffer establishment. Easements to maintain the wetlands and buffers are required for a minimum of 30 years, and permanent easements can also be developed. Nutrient treatment wetlands may also be installed outside of the CREP program, but financial incentives are not as significant.
Additional resource:
Longer-Term Practices: Grassed Waterway

Grassed Waterway: Areas within fields that are maintained in grass to address areas of concentrated water flow. Grass waterways prevent soil erosion and associated phosphorus loss.
Longer-Term Practices: Terraces

Terraces: An earthen embankment, ridge or ridge-and-channel built across a slope to slow water runoff, therefore reducing soil erosion and phosphorus loss.
Longer-Term Practices: Water and Sediment Control Basins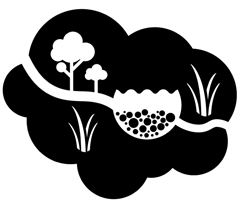 Water and Sediment Control Basins: This practice is very similar to a terrace but water and sediment control basins are generally short and straight, are placed at the lower end of slopes and do little to reduce slope length. They may be used to help control gully erosion and/or to prevent sediment accumulations further downstream.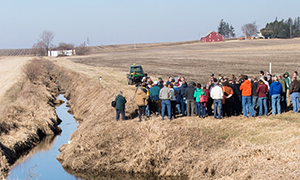 Farmer Learning
Farmers are learning more about what they can do to improve water quality such as these…
Photo credit: Iowa Department of Agriculture and Land Stewardship