Honorees Recognized with the IAWA Iowa Watershed Awards
The Iowa Agriculture Water Alliance (IAWA) Iowa Watershed Awards were presented on March 12 at the 2019 Iowa Water Conference in Ames, Iowa. Congratulations to this year's recipients!
IAWA developed the Iowa Watershed Awards program with Iowa State University (ISU) Extension and Outreach, Conservation Districts of Iowa, the Iowa Department of Agriculture and Land Stewardship (IDALS), and the Iowa Department of Natural Resources.
Colton Meyer, watershed coordinator for the West Branch of the Floyd River Water Quality Initiative (WQI), was named the 2019 Iowa Watershed Coordinator of the Year.
Four coordinators across Iowa were honored with the Circle of Excellence award. They include:
Erin Ogle, Taylor County WQI
Julie Perreault, Easter Lake Watershed Project
Neil Shaffer, Silver Creek Water Quality Project
Caleb Waters, Lake Geode Watershed Project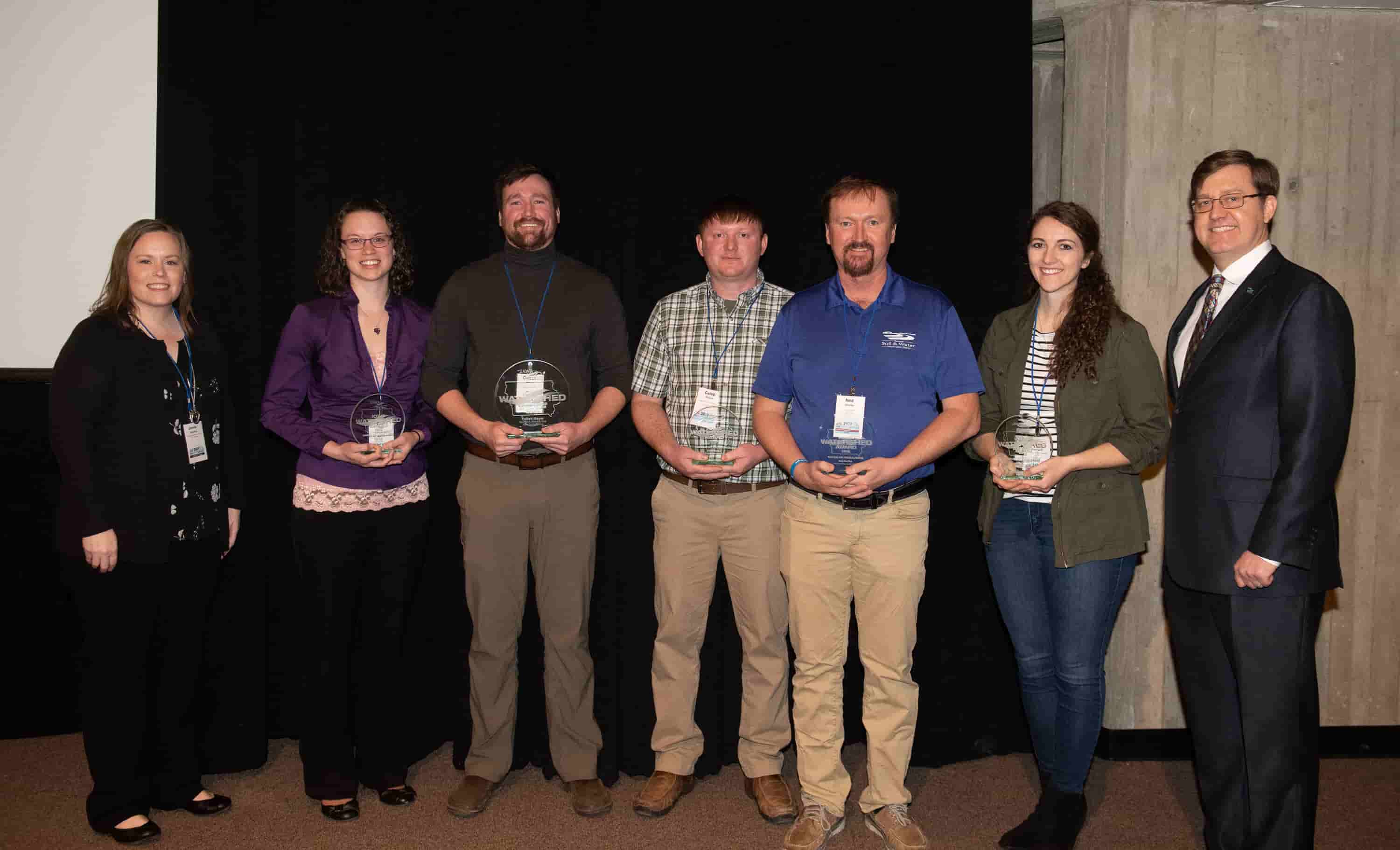 Each Iowa Watershed Award recipient was recognized for their unique and steadfast efforts to work with many diverse partners in an inclusive watershed approach that best fits the landscape of each local area.
The recipients will receive funding for their local watershed program and for their own professional development.
---
Colton Meyer, West Branch of the Floyd River WQI
You can read Meyer's full press release here.
Bolstering outreach efforts and strengthening partnerships has led to success in Meyer's watershed.
"If I had to give credit to one component of our watershed project, it would be the people," says Meyer. "I can't speak highly enough about the partners and farmers that choose to work with our project voluntarily. The time and effort they contribute to make this project successful and the actions taken to improve soil health and water quality are unparalleled."
The West Branch of the Floyd River WQI has surpassed its no-till goal of 1,200 acres by almost 400%. Its cover crops goal of 1,200 acres has been exceeded by over 200%. Since 2017, both no-till and cover crops continue to see substantial increases in adoption from local landowners and farmers.
---
Erin Ogle, Taylor County WQI Project
You can read Ogle's full press release here.
"The project's stakeholders are supportive and want to see us succeed," says Ogle. In fact, the county commissioners have a slogan, 'Farm the best, Regenerate the rest' which she tries to instill in her work with producers.
Ogle explains this means refocusing marginal acres that are currently in row crop production. "One of the main goals is to seed down side hills to help prevent erosion and improve soil and water quality," she says.
Partnering with EFC Systems, the WQI uses the company's web-based Profit Zone Manager (PZM) to visually compare scenarios on fields to determine which practices, rotations, or land management changes will maximize return on investment for farmers and landowners.
This has proven to be a success for Ogle and the Taylor County WQI Project with 100 producers participating in evaluating long-term land use on more than 1,500 acres.
---
Julie Perreault, Easter Lake Watershed Project
You can read Perreault's full press release here.
This project's committed partners have invested $3 million in watershed improvements and $9 million in lake restoration. Conservation practices installed in the watershed include soil quality restoration by homeowners, rain barrels, rain gardens, permeable pavement, native landscaping, bio-retention cells, and a stormwater wetland. In addition, 80 acres of woodland has been restored and 4,800 feet of stream has been stabilized with another 9,000 linear feet going out to bid later this year. Multiple detention basins for drainage from 1,390 acres are also planned for restoration 2019-2020.
"Through these water quality improvements, we're giving back a great recreational resource to a part of Des Moines that doesn't always get the most attention," says Perreault.
Perreault says she was excited to earn the award, adding that "without all of the work of my partners, this wouldn't have been possible."
---
---
Neil Shaffer, Silver Creek Water Quality Project
You can read Shaffer's full press release here.
Water in the Silver Creek Watershed has improved enough that some landowners have reintroduced native brook trout in their streams.
"It's been probably 40 years since we've had trout," Shaffer says. "That's been kind of the icing on the cake."
That improvement came after hard work to curb run-off on the farmland and livestock operations further upstream in the watershed. "We need to take care of the water before it gets to the streams," he says.
Landowners are using multiple practices to do that. In the last two years, cover crops have gone from minimal acreage to over 4,000 acres. Each year, the watershed averages an additional 25 acres of grass waterways installed which translates over 1 million square feet of new waterways every year.
---
Caleb Waters, Lake Geode 

Waters

hed Project
You can read Waters' full press release here.
The Lake Geode Watershed Project is one of the largest partner-based projects across the state, involving conservation efforts on both public and private lands.
"Without project partners, it would be impossible to successfully meet the project goals of reducing phosphorus and sediment loading to the lake," Waters says. "Each project partner provides a different resource ranging from technical resources to funding sources."
No-till, strip-till, and cover crops are some of the practices producers are using to reduce soil erosion and improve soil health on their farms. Waters sees landowner support and involvement mainly through the implementation of terraces, waterways, ponds, and septic upgrades. Lake Geode is one of the first projects in the state to offer cost-share to update failing septics.
---