News Release
FOR IMMEDIATE RELEASE: March 13, 2019
Zita Quade (IAWA)
515-334-1080, zquade@iowaagwateralliance.com
Meyer

 Recognized as 2019 Coordinator of the Year in Second Year of IAWA Iowa Watershed Awards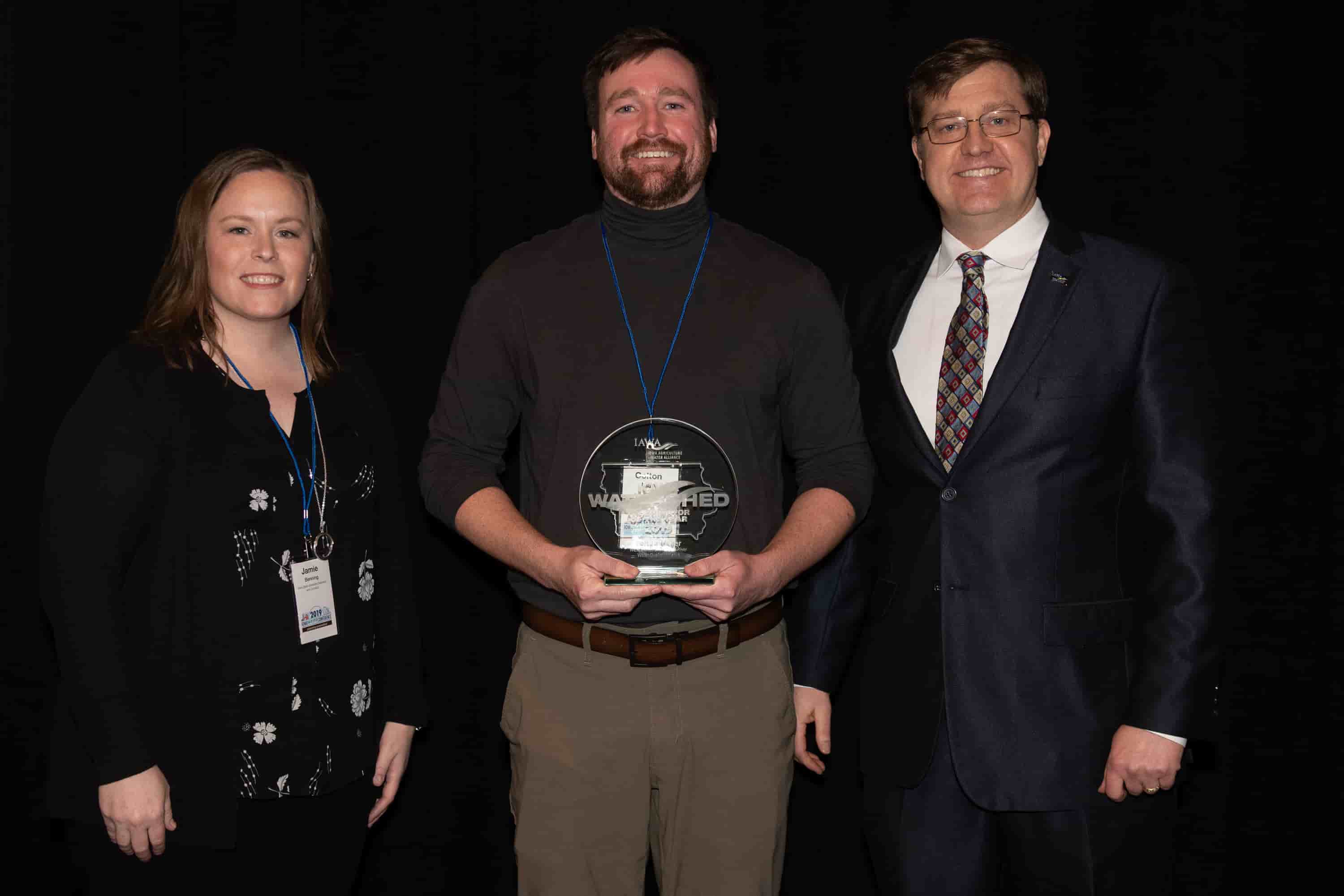 AMES, IOWA – Colton Meyer was honored yesterday with the 2019 Watershed Coordinator of the Year award from the Iowa Agriculture Water Alliance (IAWA) as part of the second annual Iowa Watershed Awards program.
Meyer, watershed coordinator for the West Branch of the Floyd River Water Quality Initiative (WQI), was honored alongside four other watershed coordinators who also received IAWA Iowa Watershed Awards for their multitude of contributions and dedication to improving water quality across the state.
IAWA Executive Director Sean McMahon and Iowa State University (ISU) Extension and Outreach Water Quality Program Manager Jamie Benning announced these recipients at the 2019 Iowa Water Conference in Ames, Iowa.
Working alongside Farmers to Improve Water Quality
Meyer was recognized with the Watershed Coordinator of the Year award because of his steadfast collaboration and successful engagement with his watershed stakeholders, including producers, community members, and public and private entities.
Bolstering outreach efforts and strengthening partnerships has led to success inMeyer's watershed. These partners include the Iowa Farm Bureau, the Iowa Pork Producers Association, Iowa Corn, Iowa Learning Farms, ISU, Iowa Department of Agriculture and Land Stewardship (IDALS), Natural Resources Conservation Service, Sioux County Soil and Water Conservation District, Dordt College, Sport Turf Supply, Inc., Pivotal Farm Services, and Corteva Agriscience.
"If I had to give credit to one component of our watershed project, it would be the people," says Meyer. "I can't speak highly enough about the partners and farmers that choose to work with our project voluntarily. The time and effort they contribute to make this project successful and the actions taken to improve soil health and water quality are unparalleled."
The West Branch of the Floyd River WQI has surpassed its no-till goal of 1,200 acres by almost 400%. Its cover crops goal of 1,200 acres has been exceeded by over 200%. Since 2017, both no-till and cover crops continue to see substantial increases in adoption from local landowners and farmers.
Meyer graduated from ISU in 2010. Post-graduation, he returned home to farm before becoming the watershed coordinator for the West Branch of the Floyd River WQI in November of 2016.
"I'm able to tie what I've learned from agriculture with my dad to my degree in environmental science to try to improve water quality," Meyer says. "I think it's a really great fit."
He says his dad has always been environmentally-minded. "Ever since I was a kid, my dad has had some of his most vulnerable acres enrolled in the Conservation Reserve Program (CRP)," he shares, to protect that ground and to provide habitat for pheasant and deer.
"Staying involved with agriculture and being able to work alongside farmers to help develop that relationship is why I chose this career," he says.
Last year, Meyer was honored with the Circle of Excellence award through the inaugural IAWA Iowa Watershed Awards. He has since used a part of the professional development funding from the award to develop his grant writing skills. He took a class that taught him how to strategically look for grant opportunities and how to write grants.
"It was a really great experience," Meyer says. In fact, with his enhanced writing skills, he applied for and was successfully awarded an $181,000 grant from the Mississippi River Basin Healthy Watersheds Initiative (MRBI) for his project in 2019.
The main goal of the new MRBI cost-share is to accelerate the adoption and implementation of conservation practices supported by the Iowa Nutrient Reduction Strategy (NRS). "By complementing our state funding with these new federal funds, the WQI should attract new farmers and expand the acres of science-based practices among farmers already involved in the project," Meyer says.
IAWA developed the Iowa Watershed Awards program with ISU Extension and Outreach, Conservation Districts of Iowa, IDALS, and the Iowa Department of Natural Resources.
"Colton is a shining example of the positive impact and difference that watershed coordinators can make when they're given the right tools," observes McMahon. "Colton's leadership has inspired numerous and diverse partners to pull on the same rope in the same direction at the same time, in alignment with the Iowa Nutrient Reduction Strategy and a shared vision to improve water quality in the West Branch of the Floyd."
The Iowa Agriculture Water Alliance (IAWA) is increasing the pace and scale of farmer-led efforts to improve water quality in Iowa. Founded in 2014 by Iowa Corn, Iowa Soybean Association and the Iowa Pork Producers Association, IAWA is building public-private partnerships focused on implementing water quality solutions. Iowa farmers are actively engaged in various conservation efforts that improve water quality. Learn more at www.iowaagwateralliance.com.